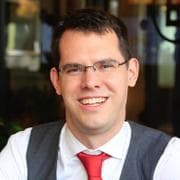 Loren Klingman
Loren lives in Atlanta, GA.
Loren is a detail oriented software developer who loves translating the big picture into code. He generally works with full stack development and is experienced with Java Spring, PHP, and Node.JS backends. He also works with React, Vue, Angular, and SCSS for front end development. He loves hearing how tools have improved processes for users and how they can be further improved.
During his undergraduate education at Clemson University, he worked with a team of nursing and computer science students to research teaching methods for electronic health record software. For his honors thesis, he investigated trust with regard to virtual machine images.
He completed a master's degree in Computer Science at Clemson University with his thesis: Corl8: A System for Analyzing Diagnostic Measures in Wireless Sensor Networks.
Currently, Loren works at Big Nerd Ranch as a software consultant and a trainer for React.
Outside of work, Loren enjoys a variety of activities including playing board games, swing dancing, and spending time with his friends. He also enjoys traveling around the US and internationally, taking pictures of nature, and on occasion, working on concert and football game production crews.